That's how it all started.....and has been going on since......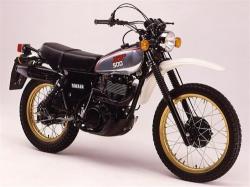 The first bike that swop me off my feet was a XT 500 ... I remember as if it was yesterday. It was in 86, we were playing basketball when Nabil's sister turned up with her 500 XT, the one with the silver tank. I stayed there looking at it promising to own one one day. In the spring 2011, I finally found one at a reasonable price but in really poor shape which I undertook to restore.
My second experience with motorcycles was in Aix en Provence in the late 80's. We were out in our usual hangout the Mistral night club. It was the cool place to hang out (still is). The place was full of rich kids wearing the latest fashion. Nothing I could match but it was still cool to be there. It was one of those night that I noticed 2 HD parked in front of the entrance. They had leather stripes hanging all over, chrome to make a blind guy see again, "ride to live, live to ride" logos all over, and the rich kids went inside the night club with their Chaps on. Everything I now despise was the coolest thing I had ever seen. And I am not talking about the chicks that were drewling for it... All of this to tell you that its not "easy rider" or any of the 1% biker gang that has made me dream on custom bikes but a bunch a rich kids showing up with the latest Evo to pick up girls and act kool. Anyway, it took 10 years before I purchased my first HD. Strangely enought I don't have any pics left of the sportser I first purchased. 6 months later I traded it for a second hand Dyna which I still owe today (although it has been severly modified).
I really got interested in building or modified bikes when a friend of mine called Tor Erik Aarlot sent me a link to the Exile web site. It blew my mind. I communicated a bit with him, even to the point where I offered to be a distributor of its product in France to which he answered negatively at the time. I have met him since and talked it, and we both laugh.
After this meeting, there was no going back. I had to start building something, although I had never change a single drop of oil in one bike. So, rather than start by changing oil, I decided to build a bike from scratch and I order a rigid from L&L in Holland that I pick up myself from the shop. The only problem was that I had no tool, no mechanical background, no welding background, no painting background, and no place workshop.
I was riding a good old Ironhead at the time that I had purchased from Custom Service in Oslo. The owner of the shop Arne and his right hand Lars where both members of the "Company MC" a pure brotherhood club whose focus is purely on camaraderie and bike building. They invited me to come around their club house and I made me feel really welcome. A great club.
It's with them that I went to Nortallje, the Mecqua of Scandinavian Chopper. That's where I met Knut who was presenting is later chopper the "Gladiator" which took 3rd place. I managed to obtain his number few weeks after the show as I had heard he was living and had his workshop in the same village as I was living in at the time. I don't remember the exact word I used but the conversation sounded something like that: "Hi, I am french, I don't speak norwegian, I want to build a chopper, but I have no workshop, I have no tool, I don't know anything about welding, mechanics or anything about bike building. Can I use yr garage, can I use your tools and can you please teach me?"
Well against all odd, 3 days later he called me tell me and he accepted. This is the kind of guy he is. 15 days later, I moved in the workshop, I bought my first tools, took a welding class, and start tearing the good old Ironhead apart. 15 months later, the bike was on the front page of Biker Journalen. Thanks to everyone.